Car Challenge Teams raise a bundle for Martha!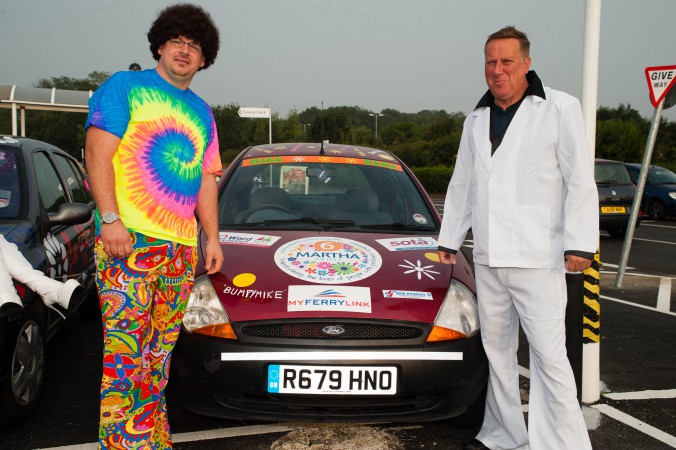 Teams from our 2014 car challenge, Monte Carlo Madness, have been busy collecting their sponsorship since returning from their four day adventure to the South of France.
Participants from across Kent drove over 1,300 kilometres in cars worth no more than £200 and raised over £22,000 in sponsorship, with one team, the Solley Scooperstars breaking all previous records by raising an astonishing £4,300.
Stephen, from Solley's Kentish Ice Cream in Ripple, near Deal said: "We're delighted to be able to support the work of Martha Trust. Monte Carlo Madness was a great experience for a worthy and local cause. We had lots of fun, made new friends and hopefully the money we raised will make a difference to the residents at Martha Trust"
Nine teams in total took part, with sabotage, pranks and laughter all the way.
Mike Bunn participant from car 6 said "I had a blast! I spent four days with a complete mix of people that had one thing in common…they were all there to have a great time and raise money for Martha Trust"
Miraculously all nine cars made it to Monte Carlo where a number of the cars were scrapped raising additional funds for Martha.
Julie Gayler from Martha Trust said "I would like to thank all the participants for making the 2014 challenge such a successful and memorable event. We are already taking bookings for our 2015 adventure Bonkers in Barcelona, so if you think you might be up for the challenge get in touch"
We'd also like to thank our generous main sponsors; Sota, Systems Technology, Unipet International Ltd, Ward and Partners, Kent Community Foundation and MyFerryLink without whose support the event would not be possible.
This year's challenge departs Dover for Barcelona on Saturday 12th September 2015 returning Tuesday 15th September. If you'd like to take part or consider becoming a main sponsor visit www.marthatrust.org.uk/bonkersinbarcelona, call Martha Trust on 01304 610448 or email fundraising@marthatrust.org.uk
Get in touch today
Martha Trust, Homemead Lane, Hacklinge, Deal, Kent CT14 0PG

01304 615223

Send us an email