How you can help Martha Trust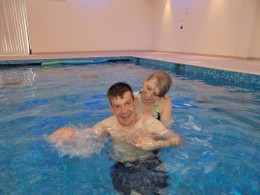 However you choose to support Martha Trust, whether you give your time or your money, you'll be making a real difference to the lives of people with profound disabilities.
Your support means the world to us at Martha Trust. Whatever you give and however often you give, we make it count.
Over the years, your donations have built three homes, two hydrotherapy pools, a fully equipped therapy centre and a day care centre, ensuring the people we care for get the most out of every day.
Your support means the world to us at Martha Trust.
You pay for the specialist equipment that safeguards the dignity and independence of our residents, not to mention the individually tailored programmes of therapies that improve their health and wellbeing.
And you fund the entertainment, technology, outings and activities that engage, stimulate and challenge our residents and help them experience life to the full.
When it comes to supporting Martha Trust, there's something for everyone:
Find out more

To find out more about how you can support the work of Martha Trust call us on 01304 610448 or email fundraising@marthatrust.org.uk.
Get in touch today
Martha Trust, Homemead Lane, Hacklinge, Deal, Kent CT14 0PG

01304 610448

Send us an email