Bettesteiner Footstompers are a big hit!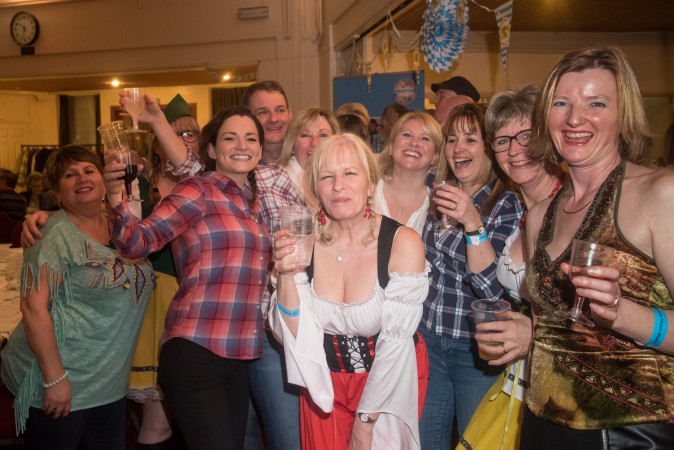 The Bettesteiner Footstompers brought the spirit and joy of the Munich Oktoberfest to Whitfield Village Hall in aid of Martha on Saturday 12th March.
Big Willy, Otto Gel, Gretel, Stefan, Gisela and Wandering Hans played a selection of foot stomping, thigh slapping German tunes which gave this live music event the authentic festive feel plus lots of crowd participation.
Bettesteiner Footstompers frontman Stefan said 'We were absolutely thrilled to be asked to perform for the Martha Trust fundraising event. This is the second time we have performed at this gig and it is a great event. Of course the really good thing is that all of the money collected with ticket sales and the raffle, is going to such a wonderful cause and we are really happy to make a contribution by performing for them.
It was a really well organised evening in a super venue and was lots of fun for all ages. We aim to be fully inclusive and provide a show you can see with you grand children or your grandmother and all would have an equally good time. It's great value too and everything is catered for. You simply buy your ticket and an evenings entertainment, food and drink are all provided by the marvellous Martha team.
We always enjoy working with Martha Trust and they put in a huge effort to make sure that the evening runs smoothly. They are a great team. One of the guys jokingly said that he would like sweets in the dressing room and, whilst the organiser realised it was a joke, they were duly supplied!
I gather there are plans afoot to run another event in the future and you can count us in. Ein Prosit!'
The food was sponsored by Rooks Foodservices, Bakkavar and Crusties Bakery in Broadstairs. Alan Langley of Dover Design Photograohy also popped along to capture the evening on camera. The whole event raised just under £1700 for Martha. 
Kerry Rubins Fundraising and Events Officer for Martha said "On behalf of Martha Trust I would like to say a huge thank you to The Bettesteiner Footstompers for kindly donating their time to deliver such a fantastic evening of entertainment. Also, Thank You so much to Jo, Liam and Meghan Allen, Sarah and Kelly Linkin and Simon Banks for giving up their evening to volunteer, to Alan Langley for capturing the event,to all our sponsors and to everybody that attended and helped make this event such a success!
We have had some fantastic feedback and are very pleased to announce that the band have agreed to donate their time for another rip roaring event next year, date and venue to be confirmed."
Get in touch today
Martha Trust, Homemead Lane, Hacklinge, Deal, Kent CT14 0PG

01304 615223

Send us an email