Second year of Golf fundraiser proves an enormous success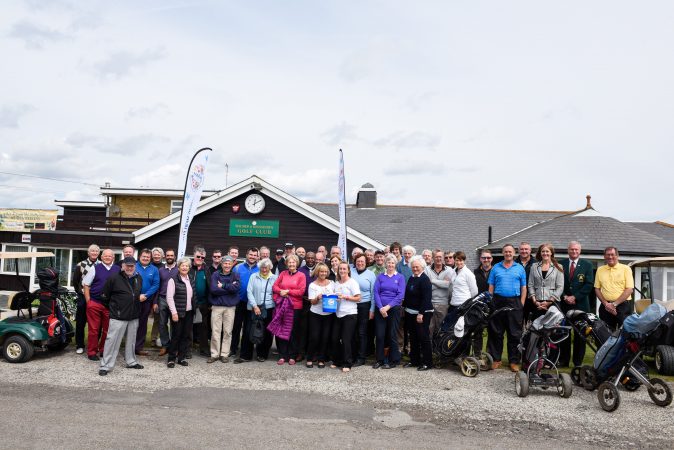 Our Golf day in association with John Shepherd took place on Friday at Walmer & Kingsdown Golf Club and was a fantastic success raising £5,000 for Martha. It attracted 18 teams and despite being a bit chilly they remained dry throughout the day.
 Taking first place was 'Team Mark Thatcher', lead by Mark which scored an impressive 100 points. In close second place was 'Team Myril Ward' scoring 90 points and in third place with 89 on countback was 'The Icemen' lead by John Hunnisett. Nearest the Pin, played from the 4th , 11th, 14th and 17th  tees were won by Mark Costelloe, Clive Relf, Billy Plews and Lesley Nickolds.
The auction was brilliantly hosted by Kevin Gilbert of Clive Emson Auctioneers who also stars in the BBC's Homes Under the Hammer. And included some incredible prizes like 4 balls at Chart Hills, Canterbury and Clandon Regis, a round of golf with current Artisan Club Vice Captain Simon Saint at Royal St George's and limited edition prints of Freddie Flintoff and The Red Arrows professionally framed by Frames for You.
Julie Gayler from Martha Trust said 'We are delighted that the day was such an enormous success and are so grateful to the golfing community for rallying around to help us stage such a special day'.
Main sponsors Positive Solutions played on the day and East Kent Foods were the leading team with John Shepherd. Also present on the day were parents of two Martha residents Jeannette & Chris Goulding and Brian and Sue Costelloe.  Alan Langley photographed the whole event and 14 local businesses sponsored holes. We would like to say a huge thank you to all of the following sponsors:
Bradfield Residential Home,Bumper2Bumper, Clive Emson Auctioneers, Diva Boutique, Dunkerley's Restaurant and Hotel, Frames for You, Hutchings Timber, J&R Carpets, Keith and Sue Rawlings Charitable Trust, KCB Property Rentals, Keystone Group, Kreston Reeves, OFP Timberframe, Positive Solutions, Saintly Suppers, Stitch n Print, The King's Head, The Town Kitchen, Walmer & Kingsdown Golf Club, Walmer & Kingsdown Golf Pro shop and Woods Builders.
Martha would like to congratulate all the winning teams and thank everyone who took part, not least Walmer & Kingsdown Golf Club for the amazing venue, Adrian Jackson and Andy Smedley for all their support, and John Shepherd for hosting such a great event.
Get in touch today
Martha Trust, Homemead Lane, Hacklinge, Deal, Kent CT14 0PG

01304 615223

Send us an email