A great night of Music4Martha at The Hop and Huffkin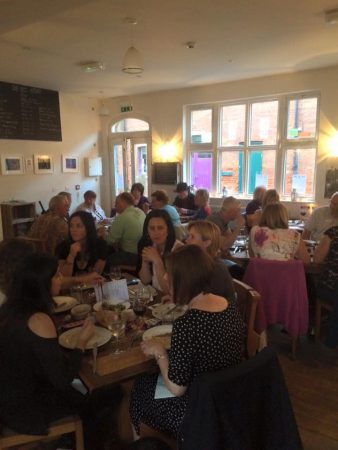 The popular Sandwich bar and dining room – The Hop and Huffkin held a great evening of Kentish Tapas, music and dance in aid of Music4Martha.The line up on the night included Tom Abrahams, gypsy jazz guitarist ; Abigail Cardwell, jazz singer ; Anna Harman, Flamenco dancer ; Nathan Allon, Soul singer.
We would like to Thank everyone who supported the event including the Hop and Huffkin, their customers and suppliers and not forgetting the musicians and dancers who provided the entertainment on the night.
Ian from the Hop and Huffkin said 'I am connected with Tom Abrahams whose sister Charlotte resides at the Martha Trust in Hacklinge. Tom has been playing at the Hop and Huffkin in Sandwich for 20 months since we opened. We get asked for lots of charitable donations however last year we made the  decision to support just one local charity. After speaking with Tom about Martha Trust, then visiting the homes, we decided we wanted that charity to be Martha. Our ethos at the Hop and Huffkin is to support local, even with our suppliers, so this lovely local charity fitted the criteria perfectly.
The event was supported by a number of local businesses – Kentish Pip, Lives R Good 4 U Ltd, Catering Supplies, Chandler & Dunn, The Sandwich Sausage Co, Gadds, Page & Sons, J C Rook & Sons, Whitstable Brewery, E T Wilmshurst & Sons, The Strand Wine Co.
Get in touch today
Martha Trust, Homemead Lane, Hacklinge, Deal, Kent CT14 0PG

01304 615223

Send us an email