The King's Head winners of Charity Football Match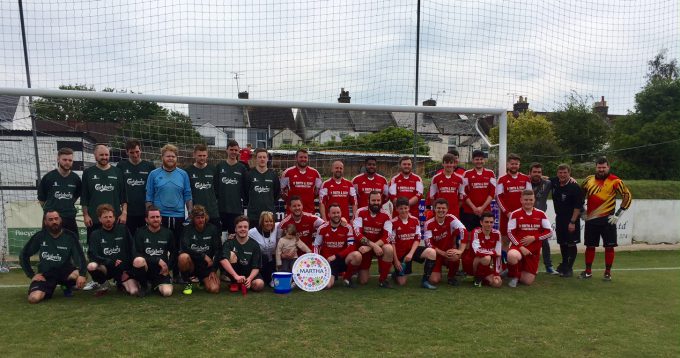 A huge thank you to Stewart Brown for organising a charity football match at Deal Town Football Ground on Saturday between two Deal pubs – The King's Head and The Walmer Castle.  Deal Town kindly supported the event by donating the use of the pitch and stewarding on the day. The event was held in aid of Martha and Action AT, with both charities receiving over £200 each.
The King's Head were triumphant with a win or 7-5.
Captain of The Kings Head team Pete Cory said: " It was a really great effort by both teams. The Kings Head had to fight the last 10 minutes  with 10 men as Scott Jackson playing for The Kings Head got sent off for a needless challenge, he will never live this one down! It is so great to support Martha Trust with any fundraising that we can"
Kerry Rubins, Fundraising and Events Officer at Martha said "I would like to say a big thank you to everyone that took part on Sunday, to Ian Marriott for reffing the game, to Chairman of Deal Town Dave Schmera, Dave Dadd , the catering ladies and the volunteer stewards at Deal Town and to Stewart Brown for their support of Martha Trust. It is a milestone year for us, being our 30th birthday and we would love to engage with and support as many people as possible with fundraising for Martha. Thanks must go to my little helper BooKatie who helped me with check in and collecting donations."
Get in touch today
Martha Trust, Homemead Lane, Hacklinge, Deal, Kent CT14 0PG

01304 615223

Send us an email