Fifth year of Golf fundraiser proves an enormous success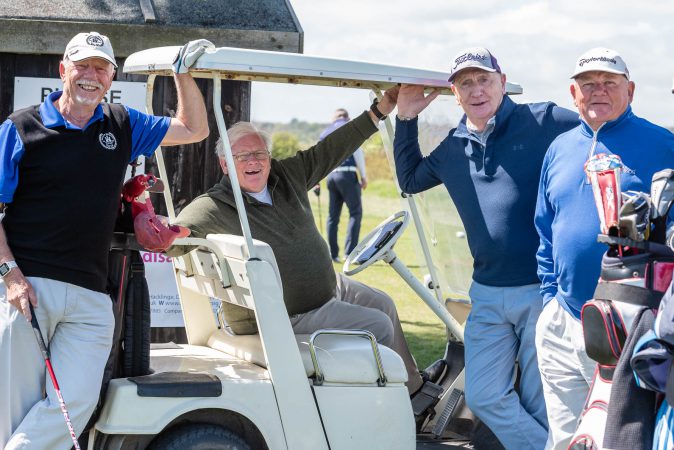 Our annual golf day at Walmer & Kingsdown Golf Club in association with John Shepherd was a fantastic success raising over £5,800 for Martha. Despite being a bit windy it remained dry throughout the day.
Golfers came from far and wide including Surrey, London and the Netherlands to support the event. Taking first place was 'Team Clubs and Roses', which scored an impressive 121 points. In close second place was 'Team BarDo and Terfi ' scoring 112 points and in third place with 101 was 'Team Dunkerley's with 110 points' .
Nearest the Pin, played from the 4th, 11th, 14th and 17th tees were won by Col McLaughlin, John Shepherd, David Atkins and Jon Harris.
The auction included some incredible prizes like 4 balls at Sene Valley, Canterbury Club, Hever Castle and Clandon Regis plus a Professionally framed Red Arrows Limited Edition Print which was framed by Deal's Frames for You Arron Skirrow
Fundraising & Events Officer Kerry Banks from Martha Trust said 'We are delighted that the day was such an enormous success and are so grateful to the golfing community for rallying around to help us stage such a special day. Thank you so much to Golf Pro Richard Perkins for providing all our winners prizes. We are incredibly grateful to the Walmer & Kingsdown Golf Club, to West Indies cricketer John Shepherd for his ongoing support of Martha, all the players, sponsors, auction and raffle donators"
Club Manager, Jonathan Webb said "On behalf of the Members of Walmer & Kingsdown Golf Club, I would like to say that it was a pleasure to host the annual Martha Trust Charity Golf Day at 'The Club on the Cliffs' on Friday. The event is always well supported and is hugely successful in raising funds for this very worthy cause. The day was blessed with excellent weather and course conditions which resulted in all teams appreciating the golf course.It is always an enjoyable experience working with Kerry Banks from the Martha Trust charity and her enthusiasm helps drive the event every year, we look forward to hosting the event in the coming years."
Parent Brett Martin gave a very moving speech at the golf dinner regarding Martha and the care and support his daughter receives at Martha and was also on hand with Trustee Rob Sparkes to assist with the smooth running of the evening dinner.
Alan Langley photographed the whole event and to the local businesses that sponsored holes. We would like to say a huge thank you to all of the following businesses that supported the event:
Barclays Bank, Walmer & Kingsdown Golf Club, Walmer & Kingsdown Golf Pro shop, Castle Removals, Hutchings Timber yard, The Plough Inn at Ripple, J&R Carpets, Positive Solutions, Solley's ice cream, Heineken,Town & Country Garden Services, Explosive Golf Marketing, Number One B&B, Suttonvale Country Park, The Kings Head and Dunkerley's Restaurant and Hotel
Martha Trust would like to congratulate all the winning teams and thank everyone who took part, not least Walmer & Kingsdown Golf Club for the amazing venue, Jonathan Webb and Richard Perkins for all their support, and John Shepherd for hosting such a great event.
Another Charity Golf Day for Martha will be held at the prestigious Princes Golf Club on Thursday 17th October. If you would like to play or are interested in sponsoring this event, please visit www.marthatrust.org.uk/princes , email fundraising@marthatrust.org.uk or phone Kerry or Carol on 01304 610448. There are various sponsorship opportunities available.
Get in touch today
Martha Trust, Homemead Lane, Hacklinge, Deal, Kent CT14 0PG

01304 615223

Send us an email