The Adventure's of Bessie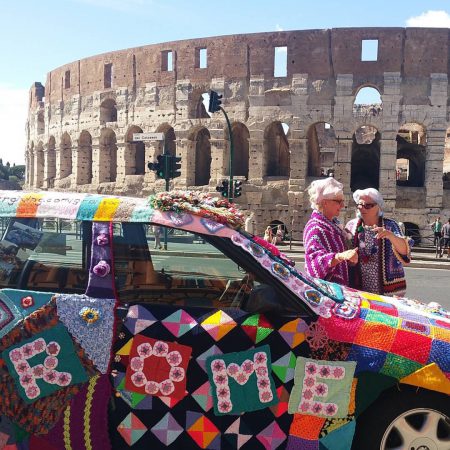 Once upon a time, there was a little old green car called Bessie parked on a road in Gravesend. She was waiting for someone to buy her because her owner had bought a brand new car…..
Bessie's rag to riches story sounds like a fairy tale; since 2016 this £200 car has travelled with Jill Burford and Pat Wilson, aka Grans on the Run, in Martha's 2016 car challenge – Rome or Bust, Monte Carlo Madness in 2017 and then with Jill and Fay Franklin in 2018 for Bonkers in Barcelona.
Bessie's team have raised £20,000 for Martha through sponsorship, and from hosting fundraising events like casino night, raffles, auctions, quiz nights and music events. Guest appearances on TV, radio, newspaper and magazine articles, NEC Craft Show, in Montreuil for World knitting day, Bessie has become a popular celebrity.
Jill, Pat and Fay have donated brave little Bessie to Martha to give her another adventure. She has loads of experience, conquered the Pyrenees on her way to Barcelona and skirted Mont Blanc on the way to Rome, despite her dislike of hills!
Perrys in Whitfield, Dover have been generously been responsible for keeping her engine running, her bodywork intact and regularly servicing and making sure Bessie has her yearly MOT.
Manager Chris Lavery says "Perrys Dover is more than happy to do whatever we can to keep Bessie on the road. The money she is raising is for such a worthwhile cause and is great, we love that we can make a difference and be part of this journey."
Fundraising & Events Officer Kerry Banks says "Bessie's story is truly heart-warming and we feel very privileged that Jill, Pat and Fay bought her to take part in 3 of our annual car challenge and then donating her to continue to raise funds for Martha. We are incredibly grateful to the fabulous team at Perrys Dover who have made sure Bessie is roadworthy and safe for her adventures! "
This year's car challenge is Monte Carlo Madness, departing on the 19th September from Dover for Monte Carlo in cars worth no more than £200. We are currently looking for sponsors to support this event, if your business would be interested please call 01304 610448 or email fundraising@marthatrust.org.uk
Get in touch today
Martha Trust, Homemead Lane, Hacklinge, Deal, Kent CT14 0PG

01304 615223

Send us an email