Hardmans makes Martha their Charity of the Year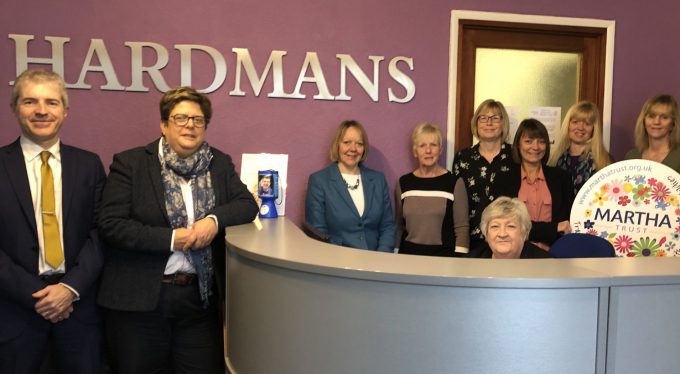 Hardmans Solicitors in Deal have chosen Martha Trust as their Charity of the Year 2020. The law firm that have been in the area since 1890, choose a local charity to support every year.
Throughout 2020, members of the team will undertake challenges such as walking, half marathons and bike rides. The team will also be holding a Summer and Christmas Raffle. The partners are planning a talk on Wills/Care home fees and powers of attorney to be held later in the year for £5 pp, all of which will be donated to Martha. They will also donate half of fees raised from standard Wills and fixed fee advice for 2 weeks, later in the year. There will be other fundraising aspects too.
The team at Hardmans said "We chose Martha Trust as it is local, we love to support local causes and Martha is a particularly worthwhile charity. Having had a number of clients that have worked with Martha, we feel really positive and excited about raising money and engaging local people to assist with and support our fundraising."
Fundraising and Events Officer Kerry Banks BEM said "We are incredibly grateful to the fabulous team at Hardmans for choosing Martha as their Charity of the Year – they have lots of exciting plans for their fundraising which we are looking forward to supporting! If your business is looking for a charity to support and would like to have a chat about this, we would love to hear from you too"
If you would like to find out more about supporting Martha in 2020, then give us a call on 01304 610448 or email fundraising@marthatrust.org.uk
Get in touch today
Martha Trust, Homemead Lane, Hacklinge, Deal, Kent CT14 0PG

01304 615223

Send us an email