Martha Trust – from the people who work here
Martha Trust is an extraordinary place to work but don't just take our word for it.
Over 180 people work at Martha Trust across its three homes in Deal, Kent and Hastings, East Sussex. Each one makes a vital contribution to the lives of people with profound disabilities.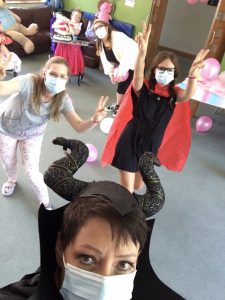 This is what they have to say about working at Martha.
Hannah, Nurse
"I've never worked with a team who care so genuinely about the people they support. I feel very privileged to be a part of Martha Trust."
Julie-Anne, Senior Support Worker
"I came to work at Martha for three months as a stop gap 15 years later and I'm still here! I find my role at Martha very rewarding and see the residents and colleagues as my extended family.."
Jessica, Support Worker
"I enjoy coming to work, it's very rewarding, and I go home feeling that I've made a real difference, everyday is different, challenging and fun. Everyone at Martha is like a family"
Kerry, Nurse
"I love the fact that at Martha, I have the time to get to know each one of the residents and make a genuine impact on their health and wellbeing."
Nathan, Senior Support Worker
"Martha are great with flexible working and accommodating my needs around my family commitments. It's a rewarding, varied job that I really enjoy.".
Julie, Support Worker:
"I love the interaction with our guys and the way it feels like part of one big family. The first time I saw Joe laugh, I knew then that I was where I was meant to be. He laughs all the time now and it gets me every time."
Karen, Volunteer:
"I would love to see even more people volunteering with Martha Trust – you get so much out of the experience and you're providing invaluable help to the people who live and work here."
Careers with Martha Trust

To find out more about a career with Martha Trust call us on 01304 626928 or email hr@marthatrust.org.uk.
Visit the vacancies page for our latest job opportunities.
Get in touch today
Martha Trust, Homemead Lane, Hacklinge, Deal, Kent CT14 0PG

01304 615223

Send us an email