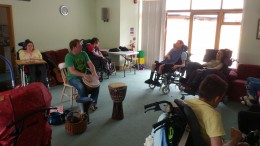 Volunteering opportunities within our homes are available Monday- Friday between the hours of 10.30 -16.00.
Volunteer Duties
Working 1:1 with our residents
Volunteers are partnered with a resident, enabling you to build a relationship with each other. You will be required to support them to:
Communicate – through talking and reading to them
Use the facilities available in our Therapy Suite
Participate in art and crafts
Participate in sensory cooking
Participate in gardening and accessing the garden
Participate in daily activities within the homes
Access the community (a group activity)
Working with groups of residents
For volunteers or a group of volunteers with a special interest like playing a musical instrument. Types of group activity include:
Prayer Meetings
Coffee Mornings
Reading Groups
Music Sessions
Celebrating Festivals
Special Events
Throughout the year we hold special events within our homes like Summer Fetes and Resident's Parties – these often fall outside the normal volunteer hours. We are always grateful of volunteer support to organise these events. Volunteers will be briefed ahead of the event on the tasks they are expected to get involved in, like:
Putting up decorations
Serving food and drinks
Spending 1:1 time with our residents
Helping with the clearing and washing up after the event
Volunteer Induction and Support
We like to give our volunteers a warm welcome and on-going support, as part of our induction and support process you will need to:
Attend a one day induction – outlining roles and responsibilities and emergency procedures
Complete training sessions on Safeguarding, Infection Control and Health and Safety
Complete Food Hygiene training –  applicable to anyone involved preparing and serving food
Attend an awareness session on pushing our residents wheelchairs
Contacted regularly to catch-up on how you are getting on
Find out More
If you are interested in volunteering in our homes simply complete our online enquiry form, download and complete a PDF, or call Kate or Claire in our HR team on 01304 626928.
Get in touch today
Martha Trust, Homemead Lane, Hacklinge, Deal, Kent CT14 0PG

01304 610448

Send us an email